SPEAK's New Video

SPEAK 2009 Video

SPEAK on Broadcast Radio

Press Release from Governor Martin O'Malley

Former Governor
Robert Ehrlich

The Maryland Youth
Crisis Hotline
1-800-422-0009

National Suicide
Support Groups

The National Suicide Hotlines

Maryland Suicide Prevention Commission

SPEAK on Facebook




Bev Cobain/Jean Larch 'Dying To Be Free'



Linda Goldman
'Coming Out,
Coming In'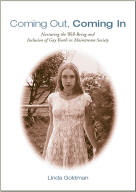 Goldman's Great Answers to Difficult Questions about Sex

Nancy Rappaport
'In Her Wake'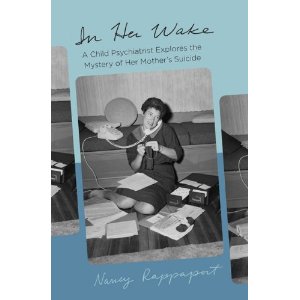 Letters: McLain & Parker Bruce
July 14, 2002 - Lincoln Memorial - Washington DC
My name is McLain Bruce.

My dad died by suicide three months before I was born.

Sometimes people think that it's sort of good that I didn't know my dad, that maybe it isn't quite so hard for me since I never knew him -- and maybe that's a little bit true. I still miss having a dad and I feel sad that I didn't get to know mine. I know that he loved me and my brother and mom. We talk about him whenever we want.

When someone asks me how my dad died, I tell them that he had an illness in his brain that made him feel so sad all the time and that he didn't think anyone or anything could help him.

I think my dad would be proud of us for speaking out about the problem of mental illnesses, like his, that sometimes cause people to end their lives. I hope that someday everyone will know and understand that there is help and maybe someday no one will die by suicide.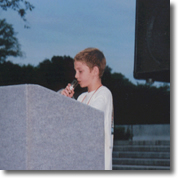 My name is Parker Bruce.

Thanks for giving me the opportunity to share with you this evening a few words about my experience as a survivor of suicide. I am the survivor of my father's, grandfather's and aunt's suicide.

The most important word in 'survivor of suicide' is 'survivor'. I decided to look up the word survivor. The definition in the dictionary says: "survive - to continue to live or exist".

I know that my dad, who died by suicide when I was two and a half, would want me to continue to live, not just exist.

Yes, I miss him. Yes, it would have been better if he had not felt so hopeless, that he could have believed that there was a way to get better. He did what he did and that cannot be changed.

What CAN be changed is how my family and I deal with the loss of three relatives by suicide. As I have gotten older I have learned about the situations and illnesses that cause people to take their own lives. Knowing this helps me to understand that what my dad did was not to hurt me or my family and that we should not feel ashamed. He was a good person and was loved by many.

I would not have chosen a life without my dad, but I have begun to realize that being a survivor does not mean my life should be any less happy. It means that my life can be different, even better, if I choose for it to be. I have experiences and opportunities that can positively effect others. My father's, grandfather's and aunt's suicides do not define who I am. They have impacted my life and I have decided to make those events, that were beyond my control, a positive force in my life. That's why I am here tonight.





back to youth page